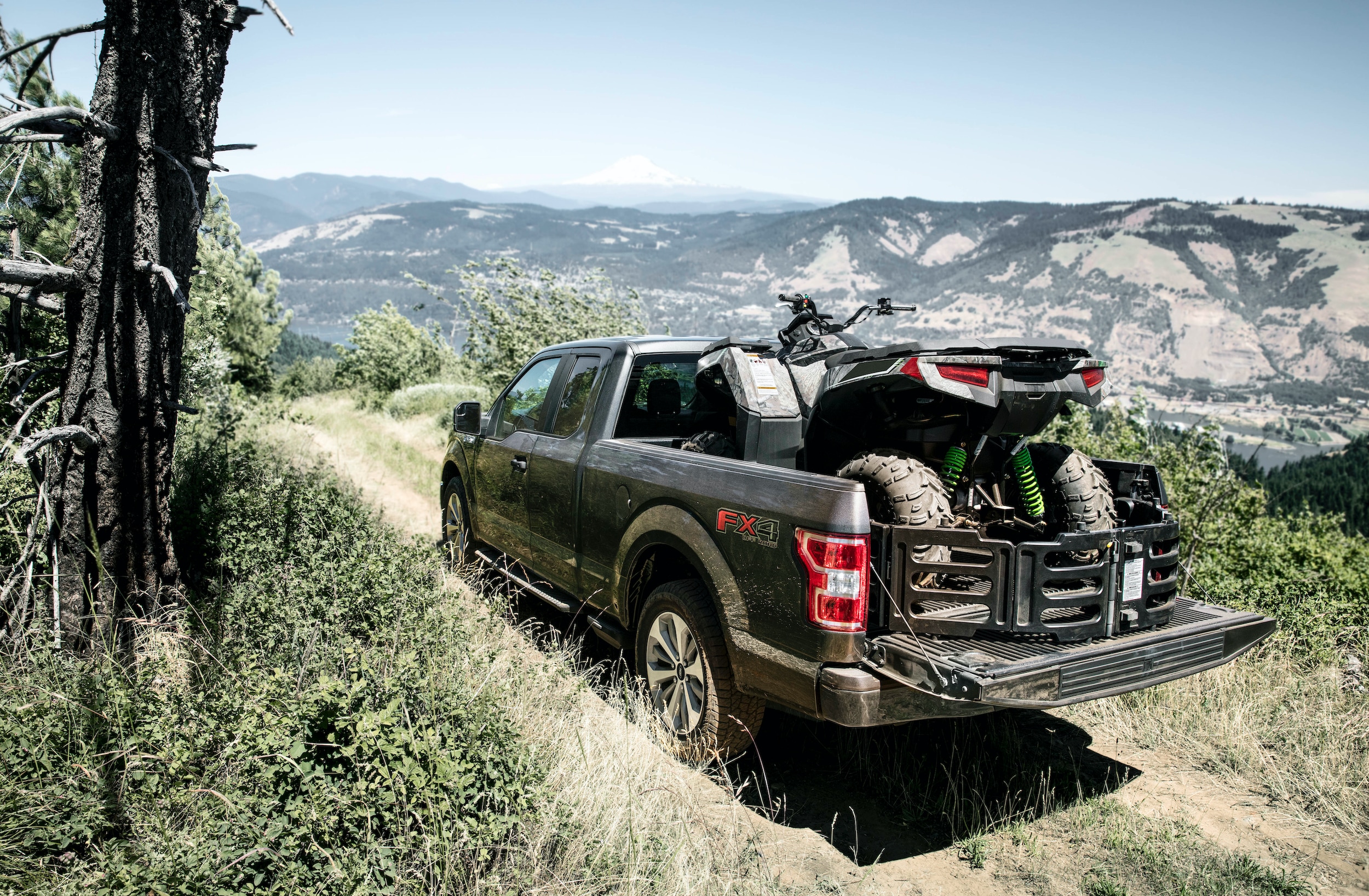 ?
2020 is here and Ford has recently introduced its newest model lineup of Ford trucks: the F-150, F-250, F-350, and the Ranger. And while we don't have flying cars just yet in 2020, we can say we have a dream lineup of the meanest, toughest, and just as important, the smartest trucks on the planet. We have trucks that are fast, durable, multi-purpose, and well-equipped for any job or journey, with a towing capacity of up to 20,000 lbs on select models. Welcome to the next generation of Ford, the 2020 Ford truck lineup.

2020 Ford Ranger
The 2020 Ford Ranger is an adventurer's best friend. This truck is fairly more compact compared to other Ford trucks and is easy to maneuver while tearing through off-road trails. With the 2020 Ranger, you'll be greeted by its 2.3L EcoBoost Engine that offers solid power delivery and driver-assistance technology right away, which is something that its rivals don't offer standard. The Ranger is no slouch when it comes to towing either, with a stellar towing capacity of 3,500 lbs. We're sure you'll have a blast running through the gears of its 10-speed electronic transmission in any environment.
The 2020 F-150
The 2020 F-150 is the best-selling truck in America for obvious reasons. It not only boasts the most trim options of any Ford truck model, but it also has 6 different engines depending on the F-150 trim you choose. Its 5,000 to 8,000 lb towing capacity shames its rivals and it comes at a very convenient price for those looking for an all-around truck. The F-150 has the perfect combination of size, strength, and agility and provides buyers with variety, so anyone can find an F-150 that matches everything they desire in a pickup truck. The F-150 is also the only Ford truck model with the Raptor trim, which is an extremely popular Baja-inspired Ford truck that possesses an aggressive 3.5L twin-turbo EcoBoost engine that achieves a best-in-class 450 horsepower and 510 lb-ft of torque.
2020 F-250
The 2020 Ford F-250 is the first part of the "Super Duty" truck series, with the F-350 and F-450 following suit. The. F-250 not only has menacing size and power, but its mind-boggling towing capacity of up to 15,000 lbs makes it perfect for getting tough jobs completed in one trip. The F-250 provides loads of variety as well, with 6 trims available and 3 massive engines. Your engine options with this model are a powerful 6.2L V8, a monstrous 7.3L V8 gasoline-powered engine, and if you want to see what 475 horsepower and 1050 lb-ft of torque looks like under the hood of a truck, you can go for an F-250 model that's equipped with the 6.7L Power Stroke V8 turbodiesel. As you'd expect with a Ford truck, this type of horsepower and torque is best-in-class for a diesel engine.
2020 F-350
If you want the biggest, baddest, beast of a truck, look no further than the Ford F-350. While all models we've previously mentioned boast some insane towing capacities, none of them can tow quite like the F-350, which is the perfect truck to complete almost any job without one issue. It holds a payload of 3,775 to 7,033 lbs and a towing capacity up to 20,0000 lbs. The 2020 Ford F-350 also acquires unbelievable power and torque at any trim level, offering the 6.2L V8, the 6.7L V8 turbodiesel, and the 7.3L V8, just like the F-250, when viewing engine options. Most people would think 430 lb-ft of torque for an entry level model would be crazy, but it's a reality with the Ford F-350 base model. Along with the F-250, the F-350 offers an applaudable 6 trim options to provide variety for its buyers. We promise you that when you see its intimidating appearance in person, you'll be chomping at the bit to get your hands on this well-designed machine.

Read below to find out some of the specifications of each of the new 2020 Ford truck models.

---
3 trims: XL, XLT, LARIAT
1 Engine: 2.3L EcoBoost Engine with Auto Start-Stop Technology
Transmission: The Ranger uses a 10-speed electronic transmission.
Towing Capacity: 3500 lbs
7 trims: XL, XLT, LARIAT, King Ranch, Raptor, Platinum, Limited
6 engine options: 3.5L EcoBoost, 3.0L Power Stroke Turbo Diesel, 3.5L twin-turbo HO EcoBoost, 2.7L turbocharged EcoBoost, 5.0L TI-VCT V8, 3.3L TI-VCT V6
Transmission: All F-150 trucks deliver their menacing power and torque through a 10-speed automatic transmission, except for the XL and XLT models, which have TI-VCT V6 engines equipped with a 6-speed transmission.
Towing Capacity: 5,000 to 8,000 lbs
6 trims: XL, XLT, LARIAT, King Ranch, Platinum, Limited
3 engine options: 6.2L V8, 7.3L OHV Gas V8, 6.7L Power Stroke V8 Turbo Diesel
Transmission: 6-speed automatic, 10-speed automatic
Towing Capacity: 12,300 to 15,000 lbs
6 trims: XL, LARIAT, King Ranch, Platinum, Limited
3 engine options: 6.2L V8, 7.3L OHV Gas V8, 6.7L Power Stroke V8 Turbo Diesel
Transmission: 10-speed automatic
Towing Capacity: 12,000 to 20,000 lbs
---
To get your hands on the greatest truck lineup in America for 2020, head on over to Keith Hawthorne Ford of Belmont to get the best deals on new and used Ford cars, trucks, and SUVs. Find out what makes us even better with the Keith Hawthorne Advantage, featuring Door Ding Protection, Anti-Theft Protection, Lifetime Powertrain Limited Warranty, and more! Be sure to check our online inventory of Ford Trucks and come in for a test drive today.