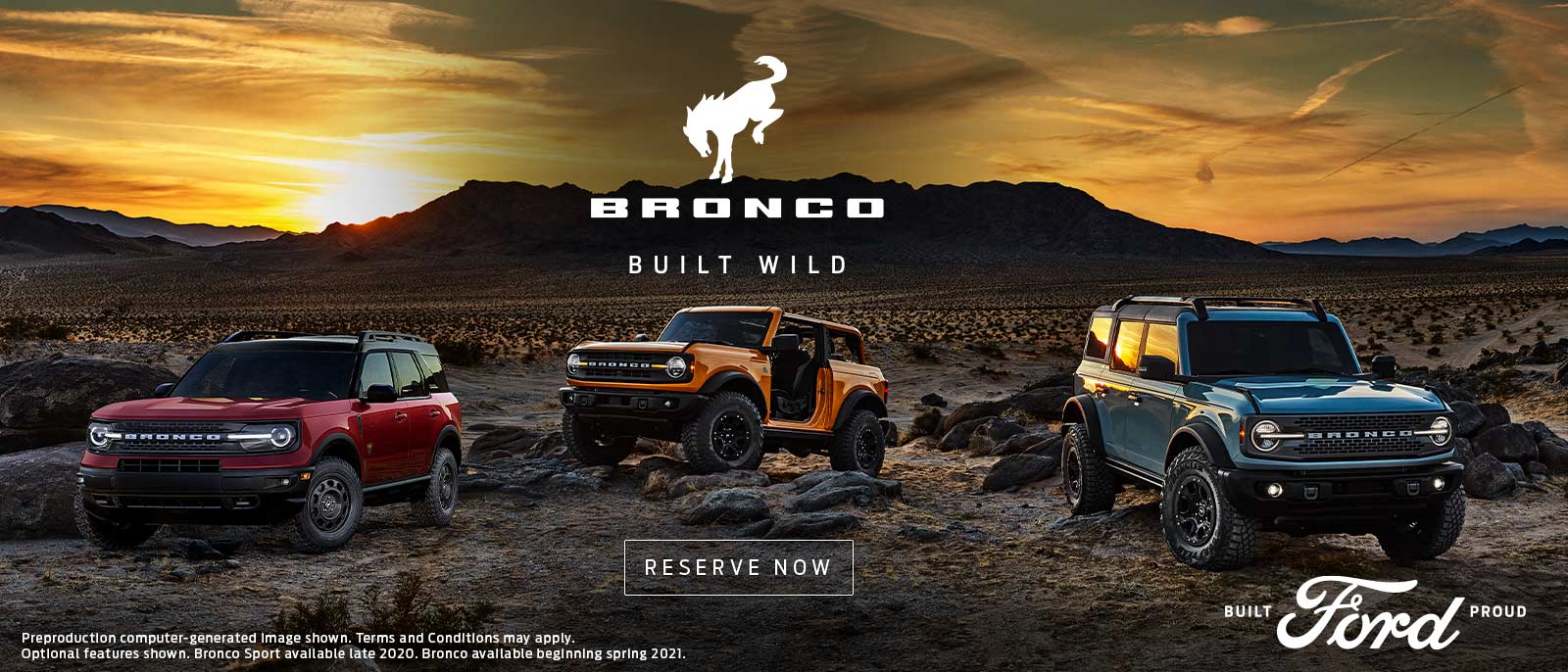 If you're a huge fan of Ford vehicles like we are, or even a car fan in general, then you've most likely heard of the legendary Ford Bronco before. Furthermore, if you've kept up to date with Ford and some of our past blogs about the Bronco's potential return, then hopefully you heard about or watched its official reveal on July 13th. The Ford Bronco is now officially back and better than ever, with Ford showing off the stunning modern designs that still manage to carry on the amazing legacy of the Bronco. There's never been a better time to get your hands on a new Ford than right now.
Aside from showing off the new models during the reveal, Ford released many details about the newest Bronco and its production date. Production for all 3 Ford Bronco models is expected to begin in late 2020 and those who reserved a $100 spot for the "First Edition" Bronco will be receiving their custom Bronco in spring of 2021. If you don't already know or haven't watched the reveal, the 3 different Bronco models are the all new 2-door Bronco, the Bronco 4-door, and the Bronco Sport.

A Classic For The Modern Age

Regarding the Bronco 2-door and Bronco 4-door models, you will have up to seven different trims choose from! These trims include the Base trim, Big Bend, Black Diamond, Outer Banks, Badlands, Wildtrak, and First Edition. Since there is such a large variety and we know so many people still have questions, we will provide a small breakdown of the difference between trims to help you get an idea of the benefits and purposes of each trim level.
You can walk your way into a Base trim Bronco 2-door for $29,995 MSRP and the Bronco 4-door is only an additional $4,700. The base trim comes equipped with a 2.3L turbocharged 4-cylinder engine and 6-speed manual transmission (yes, a manual), plus a crawler gear. However, you can upgrade to a 10-speed automatic transmission. You also have an option of upgrading to a 2.7L twin-turbo V6 with a 10-speed automatic transmission, plus a more advanced 4-wheel drive system than the stock option. Each model you upgrade to after the base model adds on more features and different exterior styling options. You will receive more luxurious and premium materials in certain trims, more aggressive and off-roading inspired styling in other trims, and some trims will come with packages to upgrade tech features, performance, and more!
After looking at the pictures of the new Ford Bronco models, there's not much more to say other than Ford truly lived up to the hype and provided more than we could ever imagine. The new 2021 Bronco will carry on the legacy of its predecessors, with its great modern looks, its big time on-road and off-road performance and capabilities, and its great interior features and smart technology. The car is truly a work of art and now is the time to reserve your spot for a 2021 Ford Bronco. Spots are going extremely fast and all 3500 spots for the specialized First Edition Bronco trim have been reserved, making it crucial to put in your $100 reservation now to ensure you can order the Bronco of your choice when the time comes.

Be sure to follow us here at Keith Hawthorne Ford of Belmont to catch the latest news and updates on everything regarding the Bronco, with more information coming soon about the 2021 Bronco Sport!


---


Check out our 2021 Ford Bronco page to reserve yours today!