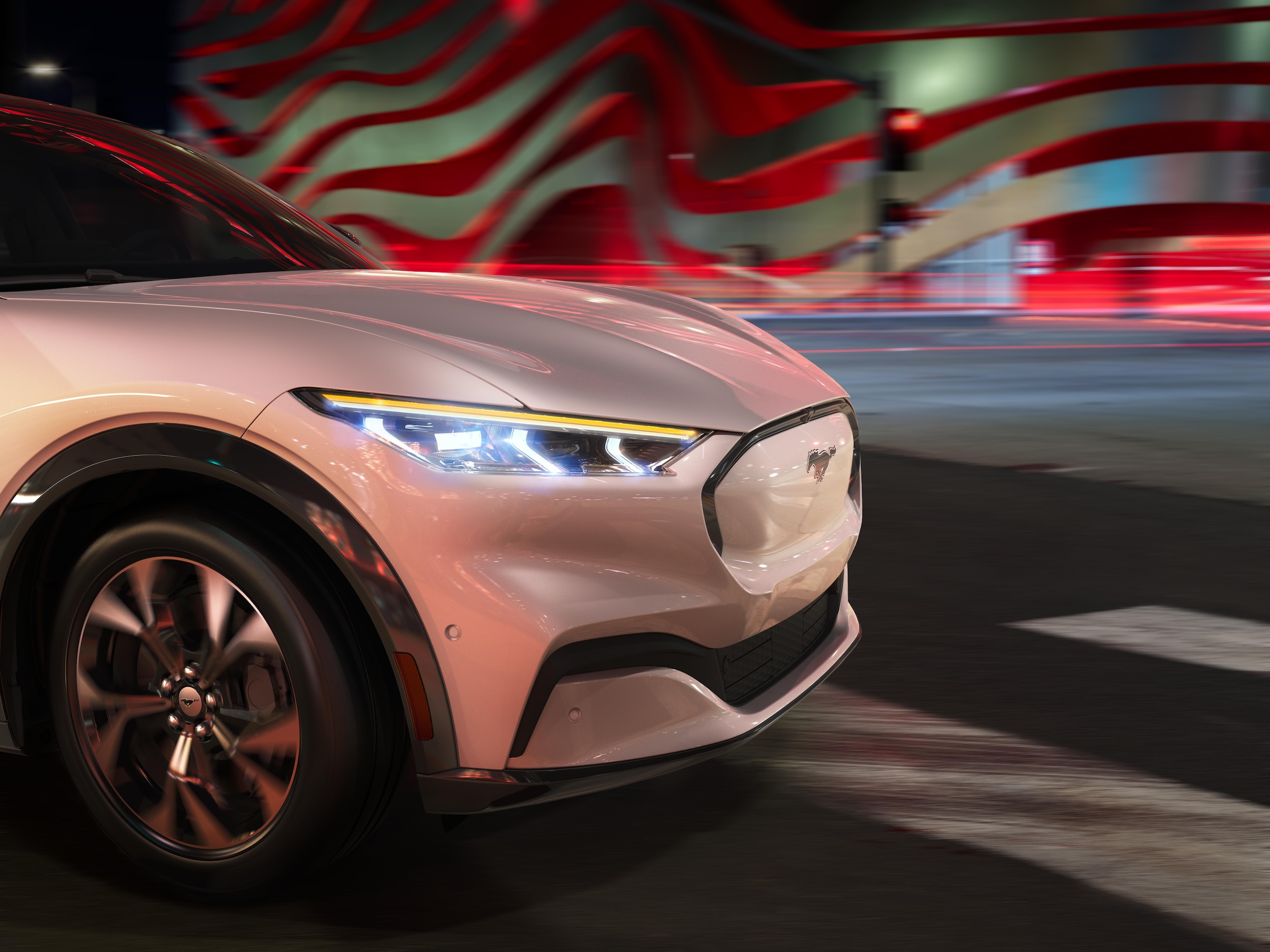 With the growing popularity of electric vehicles due to their high efficiency and solid performance, Ford has decided to emerge into this market with a bang. Meet the 2021 Ford Mustang Mach-E, the newest addition to the legendary Mustang lineup. The 2021 Ford Mustang Mach-E is extremely special because it's a giant leap forward in the evolution of Ford vehicles and specifically the classic Mustang muscle car lineup.
Mind Blowing Performance and Spine-Tingling Acceleration
Although the Mach-E is no Mustang coupe, nor is it packed with the gas-powered roar that the Mustang offers, its styling and performance capabilities are taken directly from the sporty Ford Mustang and applied straight to the electric 4-door crossover concept that has now been brought to life. Also, don't be fooled into thinking that this is a heavy and sluggish crossover that is incapable of leaving sports cars in its rear-view mirror. The Ford Mustang Mach-E with the GT package equipped accelerates from 0-60 mph in 3.5 seconds, delivering an impressive 459 horsepower and 612 lb-ft of torque.
Extremely Efficient and Reliable
The new Mach-E features two different battery sizes and ranges to suit your needs and wants in the best way possible. There will be a standard range version equipped with a 75.7-kilowatt-hour, 288-cell pack and an extended-range version equipped with a larger 98.8-kilowatt-hour battery pack with 376 cells. As a bonus, all models are equipped with fast-charging capabilities at your convenience. Ford says it will have nearly 3 times more charging stations than the popular EV manufacturer Tesla, claiming to be installing a total of 35,000 charging stations in the U.S. and some parts of Canada.
A Wide Range of Trims and Tech Features Available to Choose From
The Mach-E will start with a variety of versions to choose from: The First Edition, Premium, California Route 1, Select, and GT Performance. In addition, some of them tech features and other key features are listed below:

15.5-inch touchscreen
Tech Tray w/ Mobile Charging Built in
Cloud connected infotainment w/ real time traffic
New Ford Material: Sensico - Synthetic vegan friendly interior
40.5 Inch Best-In-Class headroom & 41.7 Inch legroom
Drainable front trunk; doubles as cooler (tailgating)
Rear Wheel drive or All Wheel drive configurations
Newest Infotainment system; Ford Co-pilot 360 2.0
Handle Free ergonomic door entry
18, 19, 20-inch wheel (rim) sizes available across trim levels
When purchasing a Ford Mustang Mach-E, you will get the best of all worlds: a spacious 4-door electric crossover vehicle with elite performance statistics, hot and modern styling, and the convenience of avoiding the gas pumps.
---
Contact your local Ford dealer, Keith Hawthorne Ford of Belmont, today to get the latest news and updates on the 2021 Ford Mach-E. At Keith Hawthorne Ford of Belmont, you always get the best deals on all new and used cars, plus added value with the Keith Hawthorne Advantage.