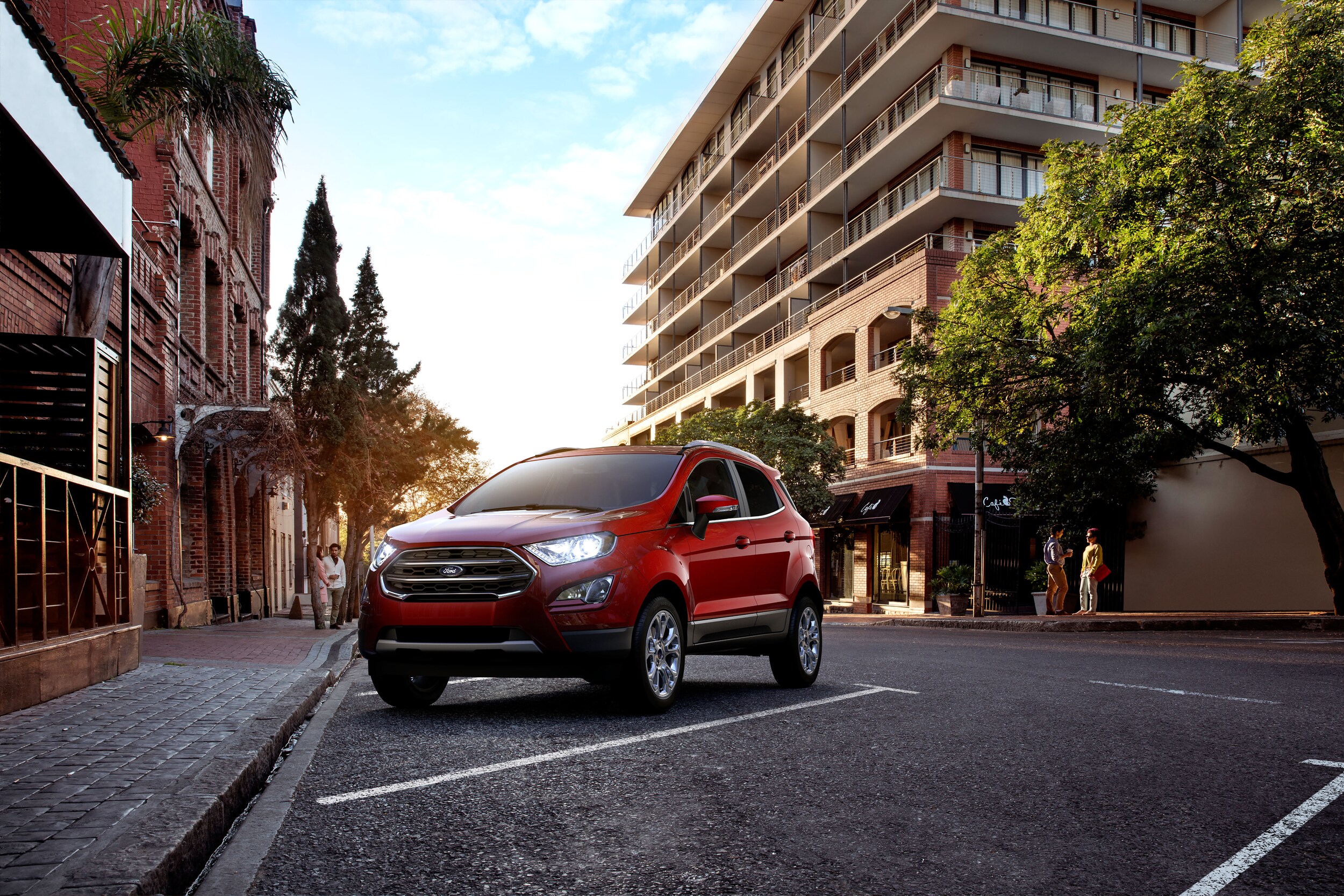 ?
With the growth of SUV popularity in America, the Ford production team has ensured that it has all its bases covered in the SUV department. For 2020, Ford features numerous amounts of SUV models that are all diverse and unique in appearance and fulfill their purpose in different aspects. Some of these models include the Ford Explorer, Ford EcoSport, Ford Expedition, and the newest member coming to the Ford SUV lineup, the Ford Mustang Mach-E.
It's important to look into the specifications and qualities of each model to showcase their differences and what makes all of them unique.

2020 Ford Explorer
The 2020 Ford Explorer is a great all-in-one bundle when it comes to SUVs and it offers a perfect mix between quality, performance, technology, and variety. The Explorer comes standard with a turbo-charged inline-4 engine, but it can be upgraded to a twin turbocharged V6 or a 3.3L V6 with an electric motor. Aside from the very comfortable ride quality, the variety of options you can choose from when buying an Explorer are impressive, as well as the fact that you can start customizing after choosing from 1 of 4 different trim options. Since this new Explorer features hybrid technology, making frequent stops at the gas station won't be an issue anymore either.
2020 Ford Expedition
The next member of the Ford SUV is the Ford Expedition, a powerful and luxurious SUV that is brought to life by a twin-turbocharged V6 engine equipped with a 10-speed automatic transmission. Although this SUV is keyed in on luxury and tech features, it's also capable of getting tough jobs done, featuring an impressive towing capacity of up to 9300 lbs. As far as technology goes, all 2020 models now come standard with Ford's Sync 3 infotainment system and other driver-assistance features. The Ford Expedition also features 4 trims like the explorer and boasts best in class fuel economy as a bonus!
2020 Ford EcoSport
A smaller SUV with big time capability is an extremely accurate description of what the new Ford EcoSport is. With the EcoSport, you'll get the best of all worlds: solid performance, great fuel economy, and enough room to bring friends and family along for the ride. The 2020 EcoSport is not only surprisingly very fun and easy to drive, it's also very convenient to drive on a daily basis. Just like the Explorer and Expedition, the EcoSport offers 4 different available trim options.
2020 Ford Mustang Mach-E
The Mustang Mach-E is the next biggest evolution in the Ford SUV lineup, becoming the first fully electric SUV to be produced by the automaker. Its sleek and sporty design is inspired by the current generation Ford Mustang, which is where it gets its name from. In addition to its amazing looks, its performance will be jaw-dropping. The GT Performance version of the Mach-E will come equipped with 459 horsepower and 612 lb-ft of torque capable of accelerating from 0-60 mph in 3.5 seconds. So far, we know that the Mach-E will have 5 different versions to start off: the First Edition (2020), Premium (2020), California Route 1 (2021), Select (2021), and GT Performance (2021). The Mach-E will also feature 2 different battery sizes and range. There will be a standard range version equipped with a 75.7-kilowatt-hour, 288-cell pack and an extended-range version equipped with a larger 98.8-kilowatt-hour battery pack with 376 cells. Here are some of the key model details:
15.5-inch touchscreen
Tech Tray w/ Mobile Charging Built in
Cloud connected infotainment w/ real time traffic
New Ford Material: Sensico - Synthetic vegan friendly interior
40.5 Inch Best-In-Class headroom & 41.7 Inch legroom
Drainable front trunk; doubles as cooler (tailgating)
Rear Wheel drive or All Wheel drive configurations
Newest Infotainment system; Ford Co-pilot 360 2.0
Handle Free ergonomic door entry

18, 19, 20-inch wheel (rim) sizes available across trim levels
?
---
Interested in a new Ford SUV? Come on down to Keith Hawthorne Ford of Belmont so you can test drive one for yourself today! With prices set to save you thousands, there's never been a better time to shop Ford! You can also check out our inventory online here!