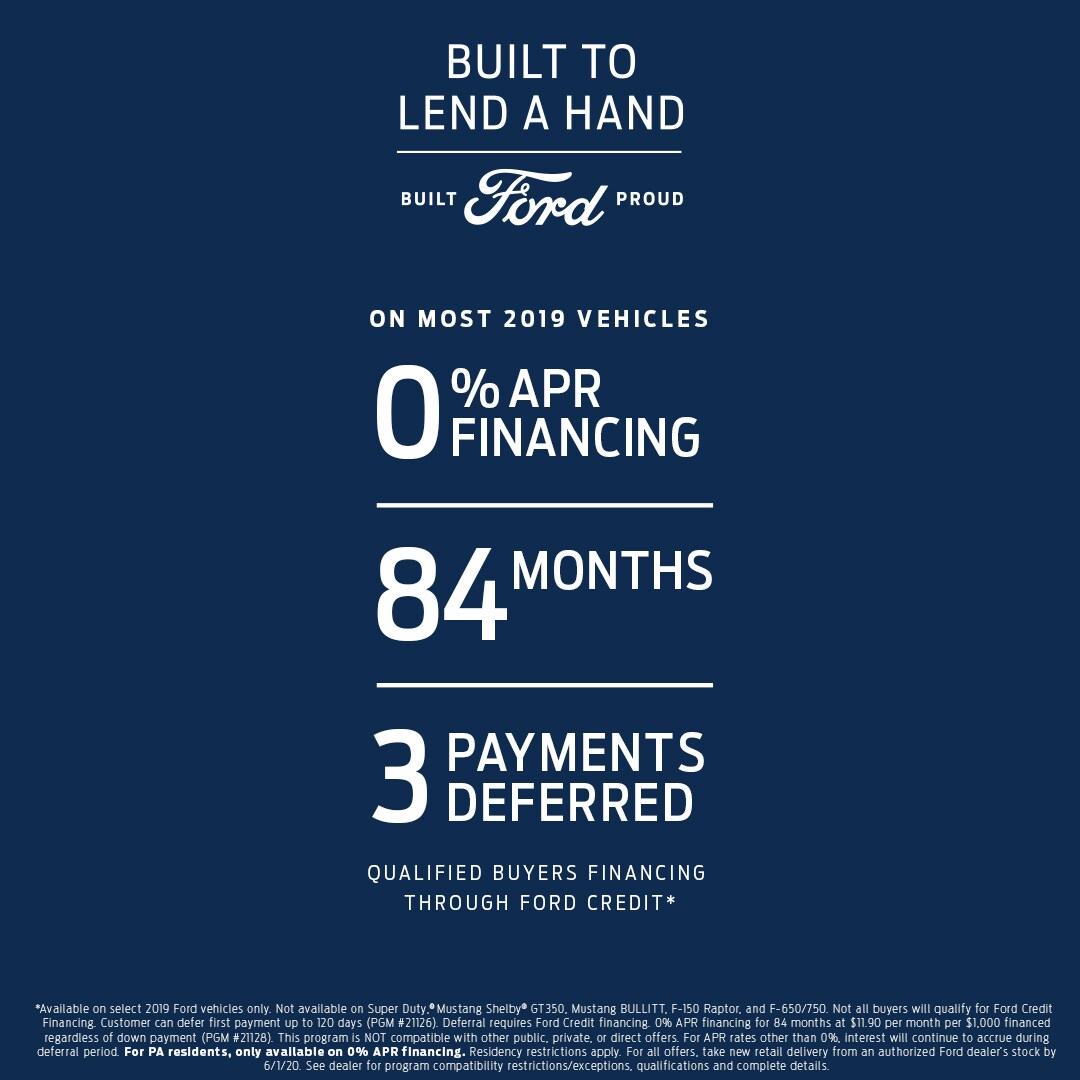 ??
As the negative impacts of the coronavirus continue to affect our nation's economy, the Ford team has been looking to help and give back to the community in any way possible during these economically harsh times. Recently, Ford announced its plan to Feed the Frontline and provide meals to all our first responders, doctors, nurses, and many others who help to keep us healthy. Furthermore, first responder specials were introduced to provide several benefits to those who risk their lives during this time to keep the community safe.
Now, we introduce you to the Ford Built to Lend a Hand Program, which offers eligible new car customers in the United States up to 6 months of payment relief. The program offers support to new and existing Ford customers that have been affected by COVID-19 and its worldwide economic impact. Kumar Galhotra, president, North America, says, "Our dealers are incredibly connected to their communities." He added, "They're willing to lend a hand by doing whatever it takes to help our customers in this time of need.
Thanks to the new Built to Lend a Hand program, customers who finance through Ford Credit can qualify to have their first 3 months' payments covered by Ford and the subsequent 3 months' payments deferred. This offer is good for any 2019 or 2020 model year vehicles, excluding the Super Duty. In addition to that, there's now a hotline that allows all customers financing or leasing through Ford Credit discuss options for payment deferment. 75% of dealerships in the U.S. have the ability to offer remote vehicle delivery for sales and service purposes, which includes the team here at Keith Hawthorne Ford of Belmont.
With all of the great benefits and specials being offered to our extremely loyal Ford customers, it's important to take advantage of these offers while they last and enjoy them. As always, remember to stay safe and healthy and if you need the best deal on a new or used Ford vehicle, we hope to see you here at Keith Hawthorne Ford of Belmont soon.