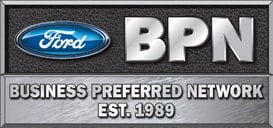 Business Preferred Network
Keith Hawthorne Ford is a Business Preffered Network Dealer.
Business Preferred Network Dealers Have the Answers
In the market for new commercial vehicles? Vehicle service? Vehicle financing and lease plans? Ask the Commercial Account Manager (CAM) at Keith Hawthorne Ford, your Business Preferred Network Ford Dealer. You'll soon discover that as a BPN dealer we have what it takes to serve your business transportation needs.
Quality Ford Motor Company Trucks and Vans.
Service Departments with extended hours, including Saturdays, with priority "head of the line" service for BPN customers.
Ford Credit Commercial Lending Services finance and lease programs, tailored to meet your cash flow needs.
The Power of Ford Motor Company is on Your Side
Everyone on the Business Preferred Network team understands that today's satisfied customer is tomorrow's loyal friend. They're committed to making the Business Preferred Network the nation's strongest business-to-business program for automotive sales, service and finance.
Customer Focus
Business Preferred Network dealers understand the pace of today's business and they're equipped to serve you best.
The latest technology.
Presentations at your office. It's more convenient for you.
Priority service for your business vehicles.
Service Plans and Support
Quality Fleet Care is a centralized billing service that allows you to make a single monthly payment on behalf of your entire fleet for maintenance and repair services performed at a participating Ford dealer. Extended Service Plan (ESP) is another valuable tool for helping to reduce your exposure to unknowns and variable expense. Because we know the importance of taking care of service needs quickly with these types of programs, Business Preferred Network customers can expect prompt attention and service whenever they need it. The goal is to keep your vehicles on the road and working hard for you.
Tailored Finance Options
Whether purchasing or leasing, Ford Credit Commercial Lending Services consultants can work with you and your BPN dealer, tailoring a plan that's right for you and your business.
We Have the Power to Put Your Business First!
Get in touch with your Keith Hawthorne Ford Business Preferred Network representative now.