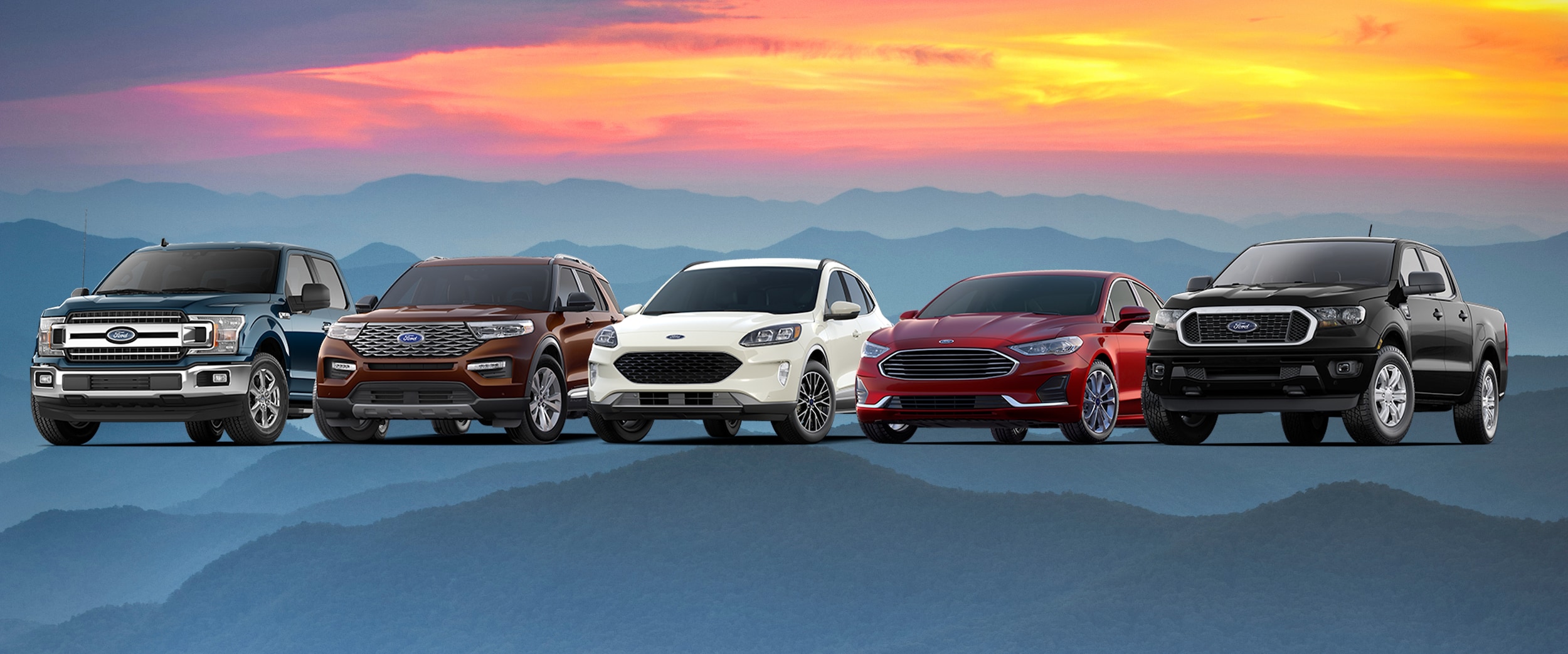 Explore Brand-New 2020 Ford Models for Sale in Belmont, NC
If you're in the market for a new or used vehicle near Belmont, NC, you may be feeling a bit overwhelmed. Which model is right for you? Do you need the extra space a full-size SUV offers you and your family, or can you make do with a compact crossover?
Perhaps you'd like the fuel economy that a hybrid vehicle offers, but your heart is set on that sporty coupe. There's no doubt that car-shopping can be a tangle of questions, emotions, and more.
Because we value the time of all our customers in Belmont, Charlotte, Gastonia, Shelby, Hickory, Mount Holly, NC, and Fort Mill, SC, and the surrounding areas, we want to make your car search even just a little simpler and more logical here at Keith Hawthorne Ford of Belmont. From the ever-popular Ford F-Series pickup trucks that are just as willing to tackle tough work tasks as they are to transport you and your family in comfort and rugged style to the efficient and affordable Ford sedan lineup, there's a perfect new Ford for each buyer. Still, finding that perfect car can prove confusing. So, what's the takeaway here? Simple. If you're trying to figure out which new Ford is right for you, read on. Hopefully, you'll learn a little bit about our new inventory and which Ford model could be the perfect new vehicle for you!
2020 Ford F-Series Trucks
From the versatile, best-selling, bar-setting new  Ford F-150 to the midsize, hardy Ford Ranger and the tough and rugged Ford Super Duty lineup, there is a Ford pickup for everyone. The 2020 F-150 offers pickup buyers tons of options. For one thing, there's a trim level for everyone, from the entry-level base Ford F-150 XL to the well-appointed, luxurious top-tier F-150 Limited and Platinum trim options complete with intuitive tech, sophisticated interior features, and more.
Plus, the 2020 F-150 can be equipped with a variety of engine options to provide you with the precise amount of phenomenal strength you need to get your work done around Charlotte, NC and Gastonia. Depending on the trim, options, and engine you choose, your F-150 can tow a maximum of 13,200 pounds, helping you tow and haul big toys and equipment wherever you need them to go.
Looking for towing and hauling, but don't want to sacrifice space for passengers? A Ford F-150 is the vehicle for you. The F-150 is America's bestselling truck for a reason; come by today and get behind the wheel of one to find out what makes the F-150 stand out. If you need a capable light-duty truck near Mount Holly, NC, the F-150 is your best bet.
Need a bigger truck? We've got you covered with one of Ford's Super Duty trucks. The 2020 Ford F-250 is the next rung up the ladder from the F-150 and it packs quite a punch. The F-250 has the strength to tackle any job you throw at it, and it makes towing and hauling easy with its extensive available towing features.
If you need a Super Duty Ford truck near Shelby, NC, consider the 2020 Ford F-350. The F-350 is even more capable than its smaller siblings when it comes to heavy-duty work, so you can count on this phenomenal truck for a wide variety of intense jobs. Available with its array of powerful engines, this truck is ready to take on whatever you bring its way.
Need a smaller option? The 2020 Ford Ranger is the midsize pickup option from the Ford truck lineup, which offers a best-in-class maximum payload of 1,860-pound capacity. The standard 2.3-liter EcoBoost® engine offers a best-in-class gas-powered torque rating of 310 pound-feet, providing the most power to your wheels when you need work done. At home on the worksite or just cruising around, the Ford Ranger is ideal for anything you can throw at it. It's also efficient and able to keep you going when other trucks would have to stop to pump some gas.
2020 Ford SUVs and Crossovers
From the Ford EcoSport to the Ford Escape and the Ford Edge, there is a Ford crossover for every type of buyer. Those searching for an efficient, affordable compact crossover will appreciate the higher ride height, available all-wheel drive, and easy maneuverability of the 2020 Ford EcoSport. Those looking for something a bit larger and more dynamic will love the 2020 Ford Escape and its array of available turbocharged engines, driver-assistance tech, and SYNC infotainment options
The 2020 Ford Edge is the Ford SUV answer for a performance-style crossover. Capable of seating five passengers, it offers EcoBoost® engine options for efficient and powerful performance, and it equips stellar technology to assist with your enjoyment and safety. Prepared for just about anything with intelligent all-wheel drive, the Ford Edge is perfect for your lifestyle.
And then there are the full-size Ford SUVs. If you're searching for an SUV to cart the whole family around and take skis, kayaks, or plenty of luggage, the capacious interior and cargo space of a Ford full-size SUV like the Explorer or the Expedition may be just what you need.
The 2020 Ford Explorer combines impressive power and capability with an interior that can seat seven passengers easily. Available all-wheel drive, over 87 cubic feet of cargo space, and with plenty of intuitive technology like the SYNC® 3 infotainment system alongside the integration of Apple CarPlay™ and Android Auto™ smartphone capability. The Explorer has been redesigned for the newest model year, and it makes short work of your morning commute.
The 2020 Ford Expedition is a large SUV that keeps its capability even when each of its eight spacious seats is full. If you need a powerful SUV near Charlotte then look no further than the Expedition. The Expedition is also a capable towing vehicle. Take boats, trailers, and other gear out for an adventure with ease!
If you need an even larger SUV, take a look at the Expedition MAX. Upgrade your cargo space and make your Expedition even roomier, so you can have space for all your gear and never have to worry about having to leave something important behind. If you need one of the largest SUVs on the market near Mount Holly, test drive the Expedition MAX.
2020 Ford Cars
Looking for the driving dynamics of a car with increased cargo space? Try a Ford Fiesta or Fiesta ST hatchback. Affordable and efficient, the Ford Fiesta is customizable to match your cargo needs. The hatchback offers over 25 cubic feet of storage, allowing you to handle larger than expected shopping trips or even your gear for a family vacation.
Or, there's the 2020 Ford Fusion if you're in the market for something a little bigger and sportier. This reliable and stylish sedan offers multiple engine options, including hybrid and plug-in hybrid powertrains that save you time and money by avoiding the gas pump. Amenities are plentiful, helping you to stay warm and cool, no matter what temperatures are running rampant outside, and the SYNC® infotainment system provides convenient access to your music and apps with ease.
Of course, there's the 2020 Ford Mustang, for sports-car enthusiasts who want to spend their time behind the wheel of a true American icon. This revamped muscle car heralds the slick Mustang BULLITT trim, adding the option to party like it's 1968 and enjoy smoking-hot styling and performance. With powerful engine options and sleek performance capability, you can enjoy the thrill of the road at the wheel of this muscle car.
In short, the Ford sedan lineup offers a new vehicle to suit every buyer and their unique needs!
Contact Us
Want to learn more about the entire lineup of new Ford vehicles? Reach out to us online or by phone at (866) 848-7684. We'll be more than happy to give you the rundown on the new 2020 Ford lineup.  Want some hands-on experience?  Our sales experts can set you up for a test drive.  After all, there's nothing like a little time behind the wheel to help you get to know a potential new car!  If you're ready to make your next move, feel free to stop by our Ford dealership today!
We look forward to helping you find your perfect new 2020 Ford vehicle near Hickory, NC!
Schedule a test drive today!
Hours
Monday

9am-8pm

Tuesday

9am-8pm

Wednesday

9am-8pm

Thursday

9am-8pm

Friday

9am-8pm

Saturday

9am-8pm

Sunday

Closed